Quadruple Apartment (with kitchen)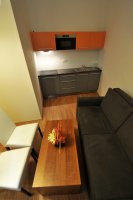 Quadruple Apartment (with kitchen)
Four-bed apartment perfectly fits your needs for a long stay in Brno. It offers you a large and comfortable bedroom and a living room with a fully equipped kitchen. Bedroom has a king-size bed plus one extra bed. For your work we assure you a work desk. For your leisure serves great widescreen LCD TV with a wide range of programs.
The bedroom has a large wardrobe. Living room has a ssofa bed and a fully equipped kitchen. Wifi connection is available for free for a password.
Apartment House Center is located in the pedestrian zone in the city centre. You can park in nearby streets, where parking can be charged. We recommend parking garage on Rozmarýn Moravian Square, about three minutes walk away. There is a nice cafe just next to Apartment House where you can sit in the morning over a cup of fragrant coffee and taste crispy Panini. For lunch or dinner you may stop in one of the many nearby restaurants. You can spend the whole evening upon a glass of delicious Moravian wine , or of " buckets " proclaimed Brno beer.
If you want to select another type of accommodation, continue by selecting suitable accommodation here.
Reservations may be made by calling +420 533 533 129 or by email info@brno-apartmany-centrum.cz. You have to enter the correct mobile phone number for full reservation. The telephone number is required for sending the unique code to the door, which replaces the function keys. With this code you will have an access to the whole house, the hallway and into your own room.
Check in is therefore very fast, there is no need to delay with waiting for the reception, because everybody has unique key code and access to your room.
APARTMENT´S FACILITIE :

DOUBLE BED

IINDUCTION STOVE

SHOWER

SINGLE BED

FRIDGE

WC

WORK TABLE WITH CHAIRES

MICROWAVE

WASH - BASIN

LCD TV

CUTLERY

WARDROBE

TABLEWARE

DINETTE

BIG AND SMALL POT

SOFA

SKILLET

SMALL TABLE

BREADBOARD, KNIFE

TWO CHAIRES

GLASSES AND CUPS